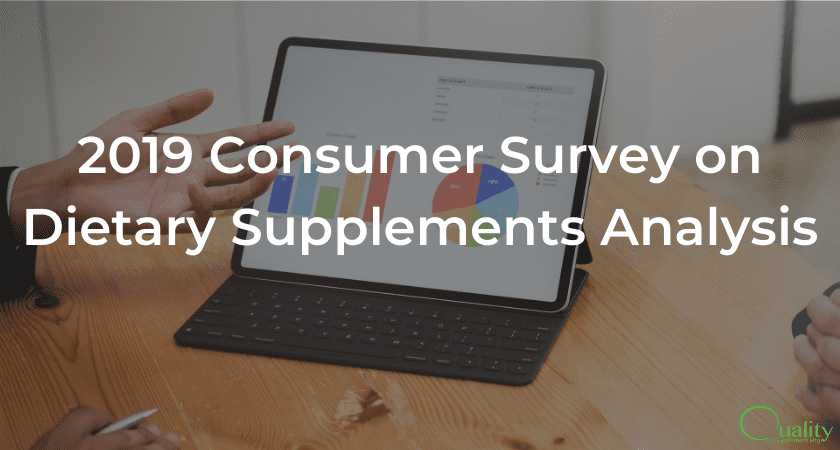 The Council for Responsible Nutrition recently released their 2019 CRN Consumer Survey on Dietary Supplements. This survey is extremely valuable for anyone in the supplement industry. It gives deep insight into growing trends and consumer decision making. You can find the complete survey results here.
Today we will be breaking down some key takeaways and what they mean for you.
Top Reasons People Take Supplements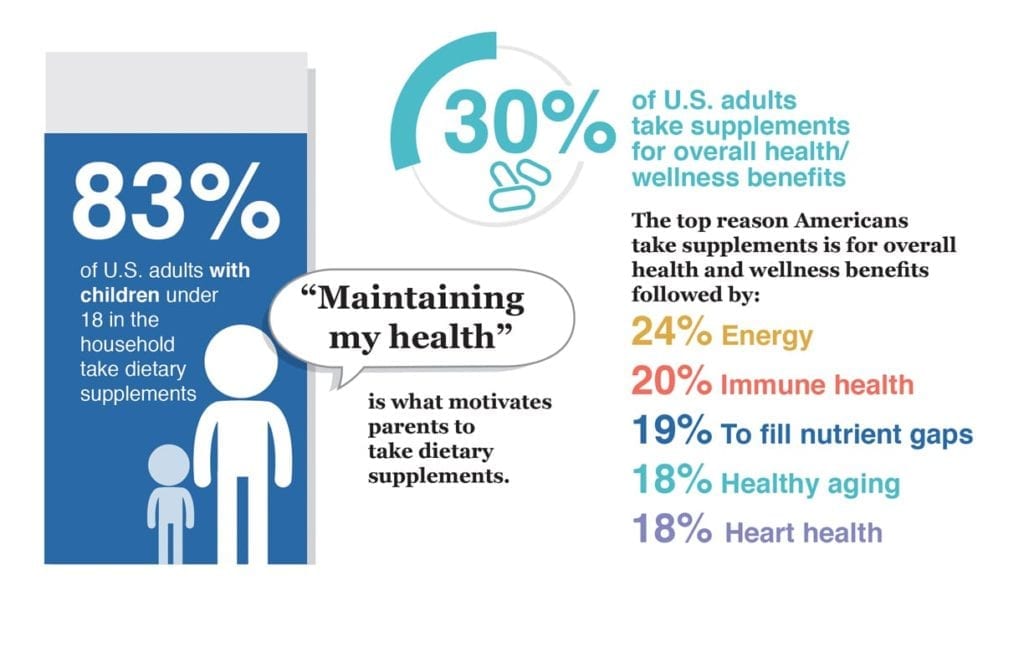 It's amazing to think that 77% of the American population takes dietary supplements. If you break it down further you find that 79% of females and 74% of males take supplements. A large majority of every age demographic takes supplements too so it's not just one age group.
Due to the fact that people of every gender, age and life stage take supplements there are many reasons that people take supplements. Knowing the reasons that people take supplements is a great way to tap into their motivation and begin to develop marketing and formulas that can specifically address these areas.
The top reasons for taking supplements are as follows:
30% for overall health/wellness
24% for energy
20% for immune health
19% to fill nutrient gaps
18% for healthy aging
18% for heart health
In addition 83% of parents with children under the age of 18 in the household take dietary supplements. They report that their reason for doing so is to maintain their health.
Knowing what the top categories of supplements are for users can help zero in on the most popular types or uses for supplements. While these niches are very competitive so are most supplement niches. At least with the most popular categories you can go for a smaller piece of a bigger pie rather than a smaller piece of a smaller pie.
Supplements to Watch
This survey points out several supplements that are on the move in a variety of categories. These categories include vitamins and minerals, specialty supplements, herbals and botanicals, sports nutrition and weight management. While these categories don't directly correlate to the top uses mentioned above, supplements in these categories can be taken for those desired benefits.
Some of the supplements with the most growth include
Vitamin D (vitamins & minerals)
Probiotics (specialty supplements)
Green tea (herbals & botanicals)
Turmeric (herbals & botanicals)
Protein (sports nutrition & weight management)
Potential Use Cases
Vitamin D – overall health/wellness, fill in nutrient gaps, healthy aging
Probiotics – overall health/wellness, immune health
Green tea – overall health/wellness, energy, heart health, healthy aging
Turmeric – overall health/wellness, healthy aging, heart health,
Protein – overall health/wellness, healthy aging, fill nutrient gaps
Changing the Minds of Consumers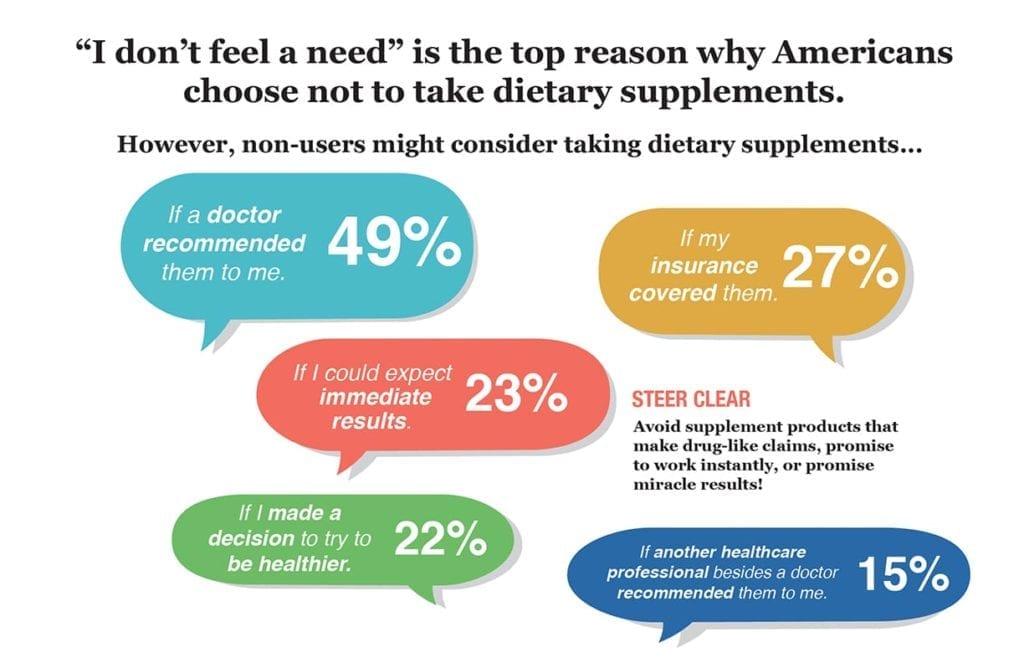 The other side of knowing why consumers take supplements is understanding why some consumers don't take supplements. The top reason that consumers give for choosing not to take supplements is they simply don't feel the need.
The good news is that many of these non-supplement users say they could be persuaded to change their minds!
49% would consider taking supplements if a doctor recommended them
27% would consider taking supplements if they were covered by insurance
23% would consider taking supplements if they could expect immediate results
22% would consider taking supplements if they made a decision to try to be healthier
15% would consider taking supplements if another healthcare professional besides a doctor recommended them.
If you decide to go after non-supplement users this information is invaluable! You should definitely consider how you can incorporate this into your marketing strategy. Getting professional endorsements from doctors or other medical professionals and customer testimonials about their results could be used very effectively in this way.
The Takeaway
Knowledge is power! The more info you can get your hands on, the better your decision making can be. From choosing which niches to focus on to which supplements to sell to how you market your supplements.
When you're ready to take action we'll be here to help! We can help you with all your custom supplement manufacturing needs. In addition, we offer a variety of private label supplements as well.