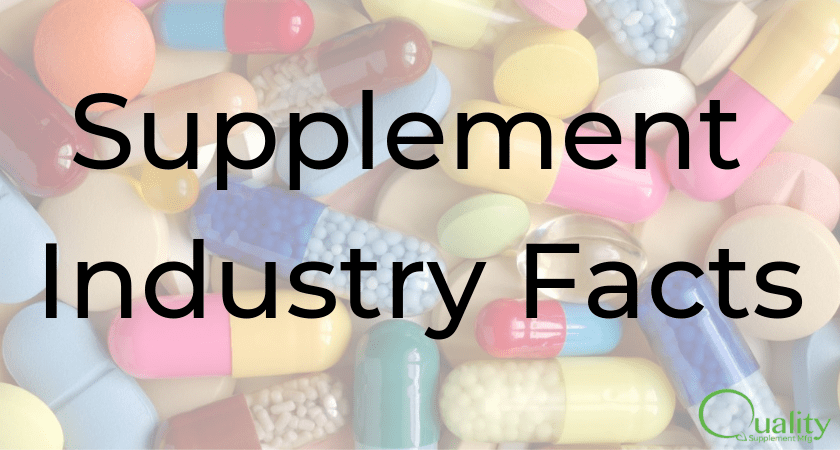 The supplement industry is growing and changing quickly. Knowing as much as you can about the industry, where it's at and where it's headed will help you make decisions that will grow your business. Knowledge is power after all and the more you know the better! These facts all come from the council of responsible nutrition's 2015 consumer survey.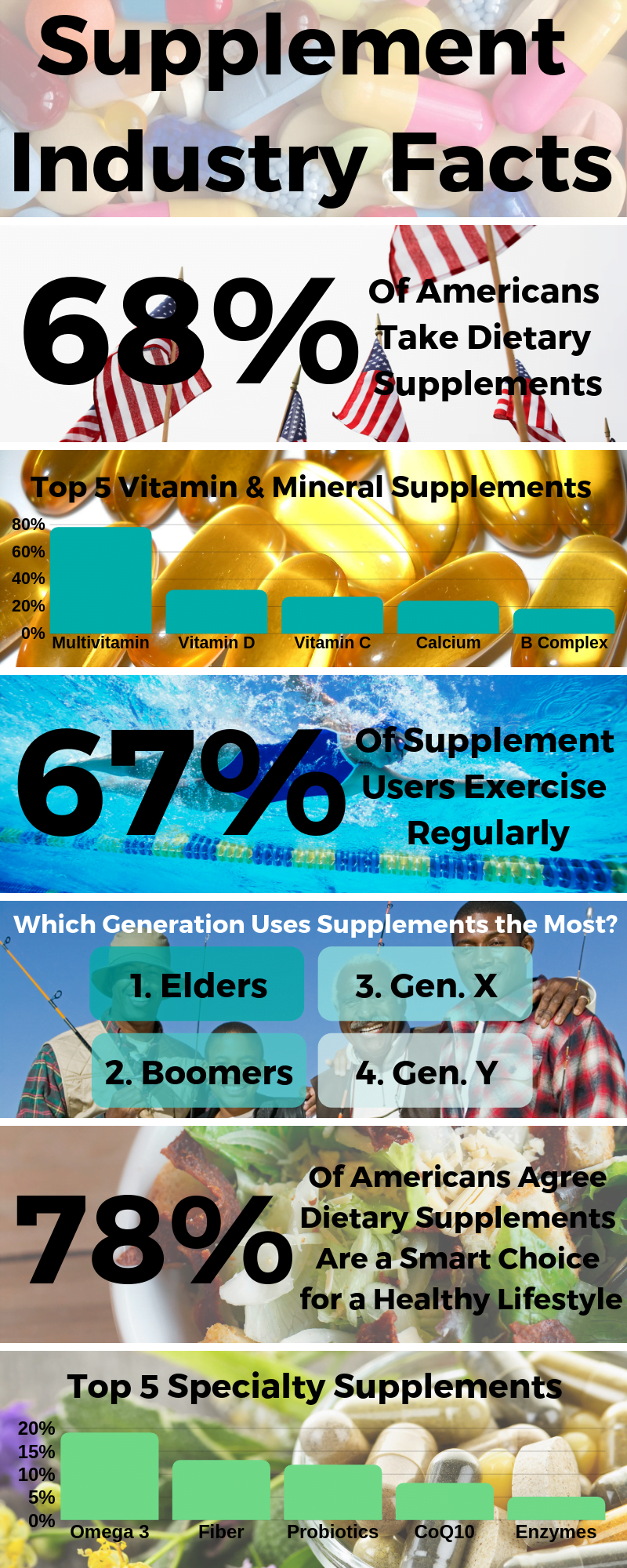 1. 68% of Americans Take Dietary Supplements
More and more people are paying better attention to their health. That's obvious when we look at the supplement industry. With 68% of Americans using supplements, that's a huge majority. It's also a huge opportunity.
With 68% of Americans already converted and in the habit of using supplements all you have to do is win them over yourself. You can do this through a better product, better marketing (showing a new, more enticing angle) or better service.
The other good thing to note is that the market still isn't tapped out. There is still room to grow and convert new customers to start using supplements. In order to try and tap into this market though you'll need to get at the heart of why these people don't use dietary supplements. Once you figure that out you can overcome it.
2. Top 5 Vitamin and Mineral Supplements
The most popular supplement category is vitamins and minerals by far. These simple supplements are uncomplicated and easily accessible. Everybody knows that in order to fill in gaps in your nutrition you can take a vitamin supplement. And since even the healthiest person can still have gaps in their nutrition, vitamin and mineral supplements are an easy fix.
The top five vitamin and mineral supplements include
Multivitamin
Vitamin D
Vitamin C
Calcium
B Complex
3. 67% of Supplement Users Exercise Regularly
In any business, in order to succeed, you need to know your customer. That's just basics. Knowing your customer helps you know where to find them and how to appeal to them but also – more importantly – how to help them and connect with them.
Which is why it's good to know that while a majority of supplement users exercise regularly not all do. Who is your target market? Do they exercise? Knowing this can help you produce the right kind of content necessary to attract your target customer.
Pick a target market and go after it. You might think that you want to try to cast a wide net and appeal to as many people as possible, don't. If you're selling an omega 3 supplement it would be pretty difficult to consistently produce content and marketing that appeals to both baby boomers that don't exercise and millennial fitness fiends. Know your customer!
4. The Generations that Use Supplements the Most
Speaking of baby boomers and millennials, which generation does use supplements the most? The top four generations for supplement use are
Elders – 79% of women and 68% of men use supplements
Boomers – 74% of women and 63% of men use supplements
Gen X – 69% of women and 69% of men use supplements
Gen Y – 62% of women and 61% of men use supplements
While many people are tempted to target younger generations with trendy marketing strategies, you might consider targeting older generations. They're the ones who need and use supplements the most, especially women.
5. 78% of Americans Agree Dietary Supplements Are a Smart Choice for a Healthy Lifestyle
Here's just another statistic that proves that the market has not been maxed out. While 68% of Americans take dietary supplements a whopping 78% agree that they're a smart choice for a healthy lifestyle.
Grand view research predicts that the supplement industry is likely to keep increasing in value by 9.6% every year from here until 2024. The total value is expected to reach $278.02 billion globally by 2024.
With so much opportunity, it's your chance to make the most of the growth of the industry. Keep in mind that this growth is global! It's important to keep an eye on the fastest growing markets so that you don't miss out on customers around the world. And in the age of ecommerce selling globally has never been easier.
6. Top 5 Specialty Supplements
After vitamin and mineral supplements the next most popular category of supplements is specialty supplements. These supplements are still pretty accessible and straight forward but they're a little bit more specific to people's health needs and goals. While a multivitamin is universal adding fiber, probiotics or omega 3s can help people supplement their diets to improve their health.
The top five specialty supplements include
Omega 3
Fiber
Probiotics
CoQ10
Digestive Enzymes