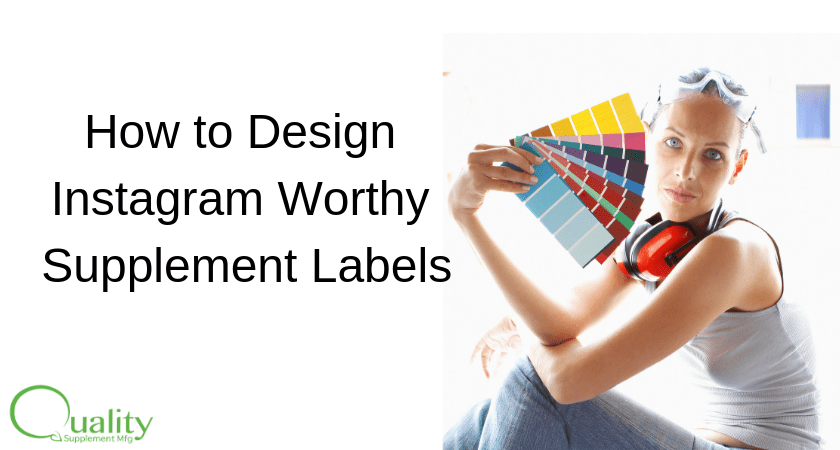 Creating labels for your supplements can be difficult. To start off with, there are many rules and regulations that must be followed. So unlike other types of products and industries there's not as much room for creativity. But at the same time you want to and need to make your supplement stand out from the crowd and attract customers.
The ultimate compliment and achievement is creating packaging and labels that are Instagram worthy. If your customers are posting pictures of your supplements on Instagram you know you did a good job. On top of that, it's free advertising!
If you and your competition are selling a similar product a good looking label can make a HUGE difference. So don't write off labels as an afterthought when they could make a difference in your marketing and sales. Here are a few tops tips when designing your supplement label.
Hire a Specialist
Like I said, there are a lot of rules and regulations that go along with supplement labeling. These regulations are put in place and overseen by the FDA and if your label is in violation then you could face consequences like fines. Yeah, not good.
That's why it's nice to have a specialist on hand. Whether it's someone you hire on full time or if you outsource it to another company, that's fine. What really matters is that you find someone who knows their stuff.
Here at Quality Supplement Manufacturing we have expert designers on board to help you create an amazing label that follows the rules too.
Less is More
You want to attract customers with your label, not overwhelm them. When there's too much going on it's hard to tell where to look. This is a major turn off. Instead of being drawn in customers are more likely to be repelled.
It's easy to go overboard when you have a lot to show off.
Seals
Benefits
Pictures
Product name
logo
But instead of communicating everything you want to communicate, you end up not really communicating anything at all. It's like typing in ALL CAPS or bold. If you do it in a COUPLE places those things stand out but IF YOU DO IT EVERYWHERE IT ALL BLENDS TOGETHER AND NO ONE WANTS TO READ IT! Get it? Good!
Plan for the Future
One of the most important parts of developing your label design is to keep the future in mind. You might only have one or two supplements right now but in the future you could have an entire line of supplements, powders, etc. This is called extensibility.
When you design a label don't just design that one label. Think about the future of your brand and your supplement line as well. Will all of these future supplements look nice together on your website or store shelf? Make a plan now to ensure a beautifully designed future.
Keep it Clear
While you don't want to include too much you definitely want to make it clear what your supplement is, what it does and why you should buy it. This can be clearly communicated in just a few short words to keep the label clean.
Including a few shorts benefits or unique selling points (USPs) is all that you really need to describe to potential customers why they should use your product. This is another great reason to work with a company that knows supplement labels that can help you figure out what to say and how to say it in order to keep the label clear and simple at the same time.
Make it Pop
This is probably the part of the design process that people are the most excited about. How to make your label pop! The first thin you should do is competitive research. Find out what's out there and what sells. While you might be drawn to create a cool label that fits in with all the other cool labels that the exact opposite of what you want to do.
When Nike was just a startup and trying to gain traction in the athletic shoe market they wanted a way to stand out among the competition. They noticed that all of the shoe boxes at the time were the same color. What did they do? They chose the brightest color they could find: neon orange.Their shoe box stuck out like a sore thumb and the color stuck with them.
Now that doesn't mean that you should make your label bright, neon orange but you do want to create a design that stands out among the rest. Color doesn't just help you stand out it also communicates certain messages, feelings and ideas.
Black Bear Design created an awesome infographic all about what different colors "mean." The colors on your label and in your logo can help send the message of your brand so choose carefully.