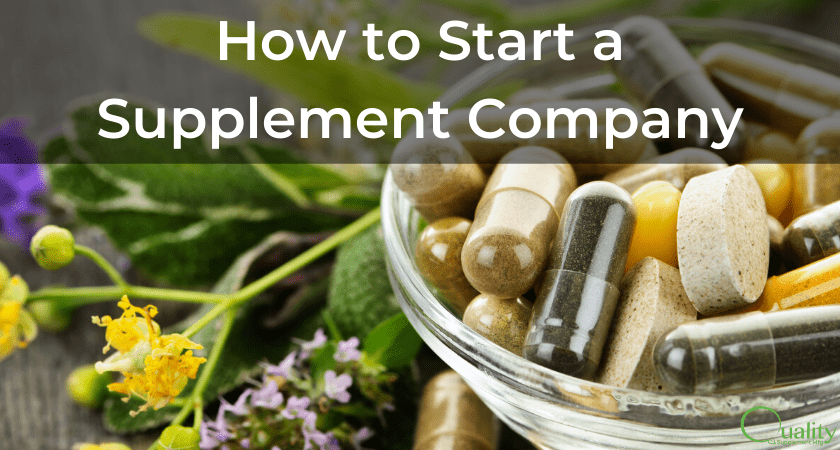 Starting your own supplement company can be rewarding and profitable. The supplement industry is worth $121.6 billion dollars and it's only going to grow from here. With so much money on the table it's tempting to dive right in.
There's a lot of interest in the supplement industry and so many people wanting to carve out their own share it's important to take things one step at a time in order to achieve lasting, long-term success.
Anybody can start selling the hottest new supplement but with patience and hard work you can build a great supplement company.
Custom or Private Label Supplements?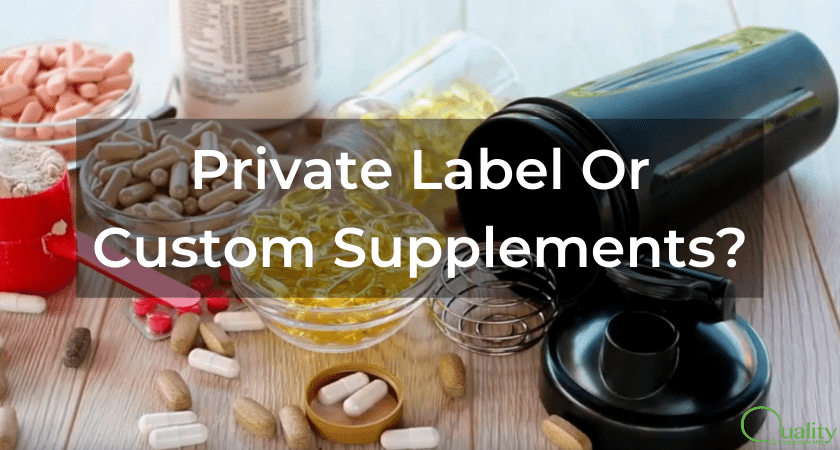 When you're first starting out and don't have a lot of experience in business or in the industry going private label is a good option. It's a great way to jump start a business and start building your brand and getting your name out there.
However, to really expand your company and make a name for yourself, custom making your supplements is really the way to go. When you create a custom formula by contracting with a manufacturer, you can offer customers something that no one else has.
With custom supplements you have the power to adjust your ingredients, flavors, servings, etc. You have total control to be innovative in order to stand out from the crowd. And that's exactly what you need in order to succeed.
Having an amazing product is key to business success. Some people would even argue that it's the most important key.
7 Steps to Start Your Supplement Company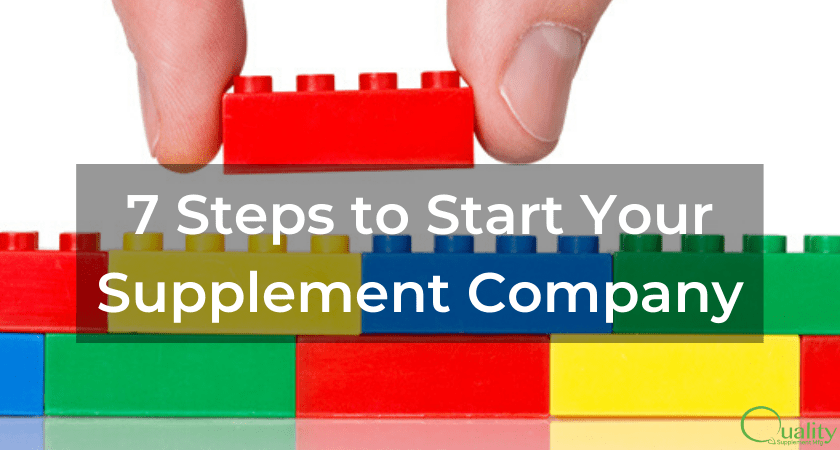 These 7 steps will help you get started moving in the right direction. While many entrepreneurs will tell you don't wait, that you should start your business ASAP the piece of advice that seems to get ignored is that you still need a plan.
1. Demographic
Some people might suggest that the first thing you need to do when creating a new company is pick the supplement first. Instead of picking a supplement and then trying to figure out who would want to buy it, try doing the opposite.
Finding an under-serviced or un-serviced demographic is a great way to distance yourself from the pack and find a group that doesn't have many options but has a need.
One way to help you identify your demographic is to look for a problem they need solved. What issue do they deal with in their day-to-day life that you could solve with a supplement: weight loss, energy levels, nutrition, inflammation.
The ability to directly address a real problem in a new or unique way will set you up for success.
2. Research Competitors
Once you know your demographic it's time to do some research on who else is operating in that space already. Researching your competition will give you an idea of how you can stand out. In order to carve out your piece of the market you HAVE to be able to stand out.
Researching your competition will also give you an idea of how they approach serving your demographic and what products they offer. If you think you can do it better or differently you know you're heading in the right direction.
A few things to take note of are:
Price
Marketing channels
Unique selling points
Price per capsule
Branding
Design
3. Formulate
Now that you know who your demographic and competition are it's time to formulate your supplement. Now is the time that you get to innovate. Knowing key struggles for your demographic and what your competition is doing should be where you start.
Here are 7 steps to consider when formulating your supplement:
Type of supplement
List of ingredients
Amount of ingredients
Supplement form
Servings per container
Number of units
Packaging
You can learn more about formulating your own supplement here.
4. Get In Touch with a Manufacturer
The great thing about working with a manufacturer is that you don't have to know everything about formulating. Finding an experienced manufacturer that is ready and willing to help you through the process and wants to see you succeed can make all the difference.
Find a manufacturer who is:
Compliant – Make sure that your manufacturer is cGMP compliant and FDA registered. CGMP means current good manufacturing practices, basically are they doing things the way they should be done.
Affordable – Cheaper isn't always better. The old saying "you get what you pay for" isn't just a saying. At the same time you want to be able to afford their services.
Experienced – You want a manufacturer who knows what they're doing and can help you learn the ropes of the industry.
Easy to Work With – The importance of this point can't be understated. The fate of your company will be in the hands of your manufacturer. If they can't bother to return your emails or phone calls in a timely manner, that's a red flag.
What To Look For In A Supplement Manufacturer
5. Marketing Model
Marketing is how you will find customers and how customers will find you. It doesn't matter if you have the best product in the world if can't get it in front of people.
There are many methods for marketing and it's usually a combination of marketing strategies that will help you maximize your reach.
The best places to market will be wherever your customers already are. If your target market is 50 year old men, Snapchat and Instagram probably shouldn't be your main marketing channels.
Here are just a few options for you to consider:
Pay-per-click
Content marketing
Search engine marketing
Event marketing
Media buying
Social media
Direct sales
6. Sales Platform
Once you know what you're going to sell, who you're going to sell it to and how you're going to get it in front of those people, the naturally the next question is how will they buy the product from you.
There are many ways to sell your products:
Amazon
eBay
Your own website
Retail
Brick and mortar
Selling supplements online has become extremely popular over the last couple of years. It's a very effective method of selling your product to people all over the country and the world. While Amazon is probably one of the most popular place to sell supplements, it is by no means the only way.
7. Build Out Business Basics
After all of the above is said and done there is still all the basic things that you need to do in order to set up your business.
Business basics include:
Logistics & fulfillment
Packaging
Label design
Legal formation
Begin sales
The Takeaway
Starting a supplement business the right way is a lot of hard work but it will set you up for long term success. You can create a truly unique and remarkable product by addressing a problem in a unique way. This will help to establish your brand as innovative in order to capture the attention of customers.
We can help! At Quality Supplement Manufacturing we've been in the supplement industry for more than 35 years. We love helping businesses grow and we would love to help you too.