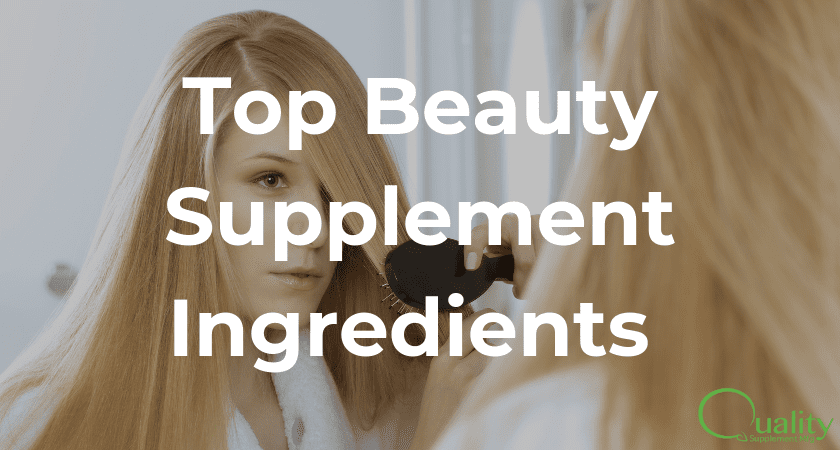 Beautiful hair, skin and nails are often a sign of good overall health. When the body is able to get the right amount of the right vitamins and minerals the results are beautiful skin, strong nails and luscious hair.
This is exactly why so many people are turning towards beauty supplements to give them the leg up they need to look and feel their best.
Why Sell Beauty Supplements
Thanks to social media and the growth of influencer marketing there has been a huge increase in sales of beauty supplements. With every moment being a photo-op, people – especially women – want to look their best at all times.
Beauty supplements really tap into this trend by supporting a healthy, youthful look from the inside out. By providing the body with the right vitamins and minerals beauty supplements fill nutritional gaps that could be preventing people from being their most radiant selves.
While beauty supplements have been very popular for a long time in other countries like Japan and Korea, these supplements are just now catching on in the United States.

From a broad perspective, according to Reuters, "Global Beauty Supplements Market valued approximately USD 3.89 billion in 2017 is anticipated to grow with a healthy growth rate of more than 8.80% over the forecast period 2018-2025."
This is great growth at a global level but when you look at the US the potential is even greater as consumers begin to adopt this trend for the first time. In 2018 the US saw a 61% increase of beauty supplements from the previous year.
According to Nutra Ingredients, "Data came from market research firm Euromonitor International, which reported the US posted $144 million in sales of beauty supplements compared to $89 million [in 2017]."
That opens up a lot of space in the US and abroad to create a breakout beauty supplement brand. As this niche is still developing there is definitely room to make your mark especially if you can innovative with your formula or business model.
Ingredients to Include in Your Formula
Collagen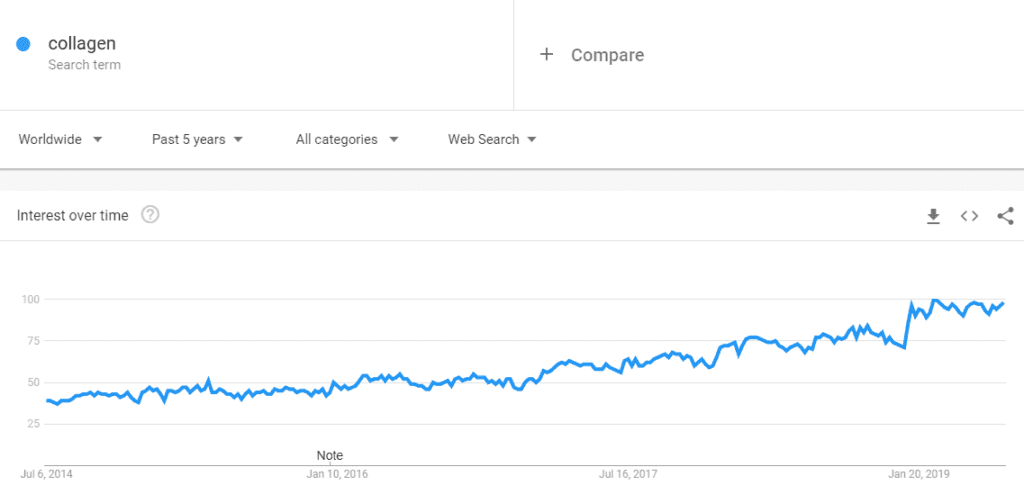 Collagen is the most abundant protein in the body! It's what creates the structure for cells and keeps people looking and feeling young. Collagen is extremely important for youthful skin it's what makes skin plump and tight instead of loose and wrinkly.
As we age our bodies produce less and less collagen and the structure of the skin begins to break down. This is all part of the natural aging process and one that no one enjoys. Collagen supplements have become quite popular as a way to delay or reverse the signs of aging.
Healthline reports that, "A study published in 2014 randomly chose 46 of 69 women, ages 35 to 55 years old, to take a collagen hydrolysate supplement. The rest of the group took a placebo. The women who took the collagen showed an improvement in skin elasticity within four weeks."
It may also help to reduce cellulite, another beauty pet peeve that many women struggle with. Collagen of course has many other benefits but these are just some of the main ones as they relate to beauty.
Beauty supplements with collagen seem to be leading the pack in the US so it's definitely an ingredient worth considering if you're looking to create your own custom formula.
Biotin
Biotin is another very popular beauty supplement ingredient at the top of the list when it comes to public recognition. In the last few years hair vitamins have been some of the most popular beauty supplements on the market. Because of this biotin has become well known as a "miracle" hair growth vitamin.
Technically biotin is just another B vitamin. It can usually be found in the diet and deficiency is relatively rare but can happen. When someone is deficient in biotin it can cause hair loss, brittle/weak nails and skin issues like acne or psoriasis.
The FDA doesn't have a daily recommended dietary allowance for biotin but Medical News Today reports that for people with biotin deficiency it's recommended that they should consume between 30-100 mcg/daily.
Vitamin C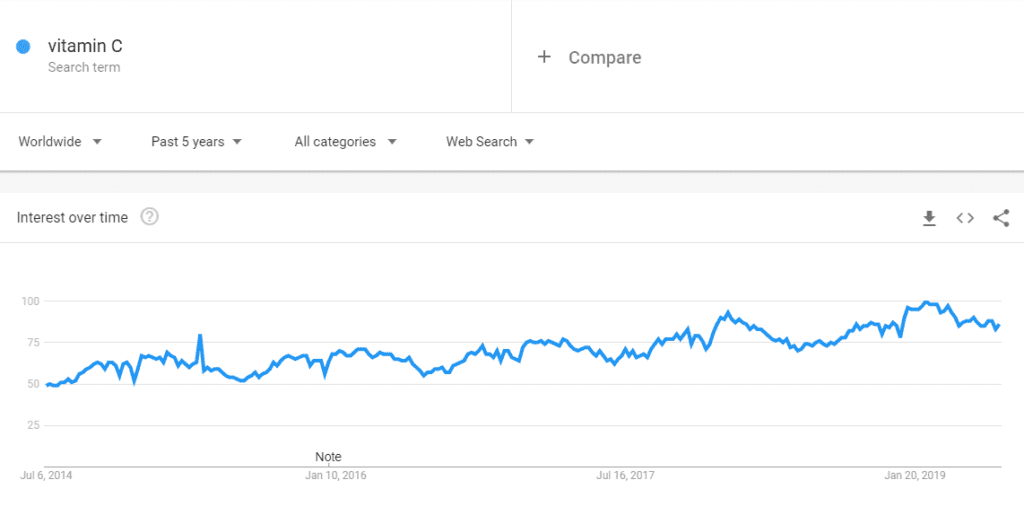 Another important beauty ingredient is vitamin C. While vitamin C is often associated with immune health it is essential for healthy looking hair, skin and nails. It provides a wide variety of benefits that contribute beauty in significant ways.
First and foremost vitamin C is a powerful antioxidant. Antioxidants work to protect the body against free-radicals. Free-radicals can damage DNA and cause signs of aging. It can also help fight cell-damage caused by sun exposure, pollution, etc. All of these are leading causes of signs of aging in the skin.
In addition vitamin C is essential for the body to naturally produce its own collagen. You already know that collagen production declines with age, it's important that people don't further restrict their ability to produce collagen by simply not having enough vitamin C.
Pairing vitamin C with collagen in a beauty supplement could be a great combination to allow for natural collagen production as well as supplement with extra.
The Takeaway
Beauty supplements are gaining steam and the forecast says there are blue skies ahead! This is a niche that is relatively new in the US. There has been a massive explosion of growth within the last few years and there is more than enough room for new players to join in and help develop this category of supplements.
Collagen, biotin and vitamin C are just a few of the top ingredients for beauty supplements but they're a great place to get started as you think about what you want to include in your formula. When you're ready to start manufacturing we can help you get started. At Quality Supplement Manufacturing we do custom manufacturing. There's no formula that we can't tackle!