What's bright yellow, grows in the ground and is one of the supplement industry's fastest growing supplement trends? You guessed it, turmeric! Turmeric is a relative of ginger root and it's commonly used in Indian cooking but it's so much more than that.
Not only is turmeric used in cooking, it's been used in Ayurvedic medicine for hundreds of years! It's only been within the last few years that these benefits have broken through to the mainstream and helped propel the growth of this awesome supplement.
Turmeric has grown a lot in popularity in the last five years and it's expected to keep growing. It's also important to keep in mind that turmeric is no one-trick-pony. It's time to take a deeper look at turmeric and consider selling your own turmeric-powered product.
Turmeric: A Rising Star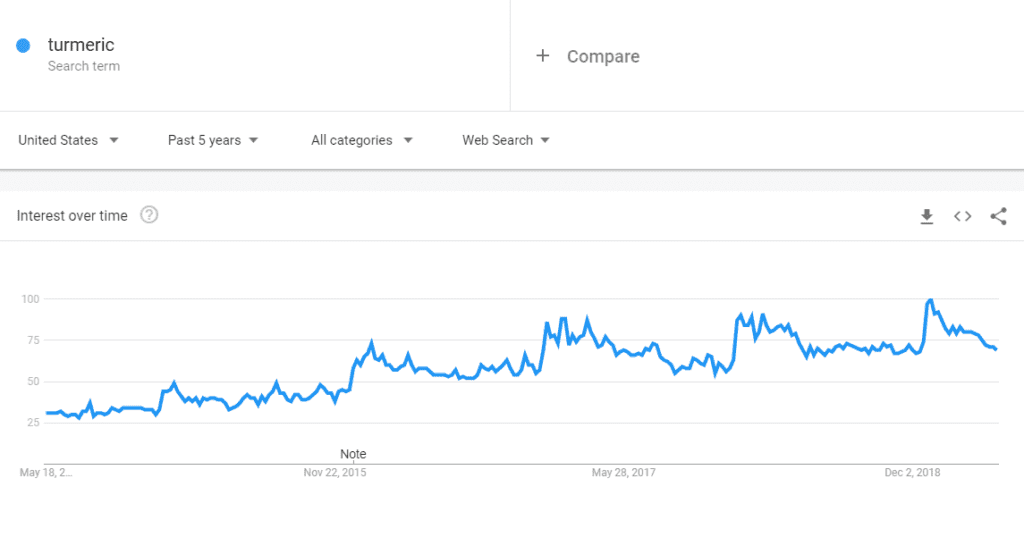 According to the Council for Responsible Nutrition (CRN), "the 2018 data reflect the emergence of one of industry's rising stars: turmeric." While this doesn't come as much of a surprise to us in the supplement industry it's interesting just how quickly consumers have adopted turmeric supplements.
Brian Wommack, senior vice president, communications, CRN revealed that turmeric wasn't even on the survey five years ago! It's crazy how fast turmeric has gone from zero to hero and its popularity is paying off in a big way.
The American Botanical Council said, "For the natural channel, turmeric earned the top spot among herbal ingredients with $50 million in sales, representing 12.2% growth."
When you look at the numbers it's clear that turmeric is a supplement you should be paying attention to.
Who Uses Turmeric Supplements
One of the reasons that turmeric supplements have been so successful is because of their broad range of appeal. There are certain supplement ingredients that are very niche. They have one purpose that only appeals to a small slice of the market. While these supplements have their place they also have limitations.
Turmeric on the other hand is extremely versatile. They appeal to men and women young and old with a variety of health goals/concerns. Despite the fact that the baby boomer and millennial generations are so different they both find uses for turmeric supplements, for one group it's joint health and staying active for the other it's improved performance and recovery.
For this reason turmeric works well as a stand alone supplement (something you can market as a turmeric supplement) or include it as an ingredient in a supplement targeting a specific health issue.
Benefits of Turmeric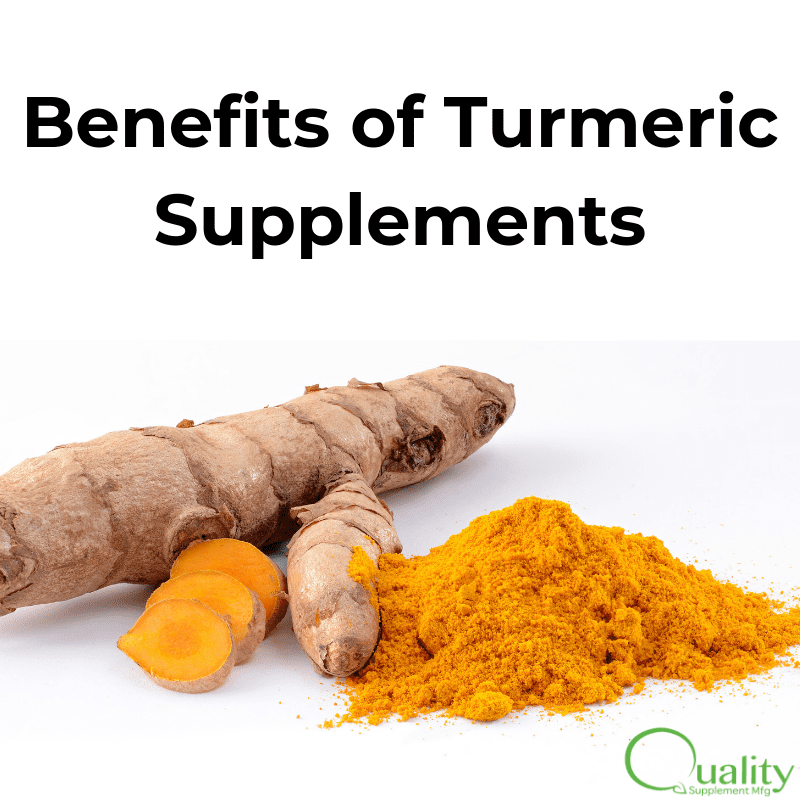 There has been a lot of research as well as speculation about all the different benefits of turmeric supplements. Some of the benefits you'll read about include:
Boosts the immune system
Fights bacteria and viruses
Promotes digestive health
Anti-inflammatory
Treats arthritis and other inflammatory diseases
Regulates metabolism
Encourages healthy weight loss
Raises core body temperature
Increases the process of thermogenesis
Natural blood thinner
Lowers high blood pressure
While this long list of benefits is certainly impressive, it's important to focus on the ones that you can legally claim and have actual evidence to back them up. One of the top benefits that draws many customers in is its anti-inflammatory properties and it turns out there's research to back it up.
The most popular uses include:
Hearth health
Diabetes
Brain health
Age-related disease
Mental health
The Takeaway
Turmeric has quickly risen to the top of the supplement industry and it's not just a bunch of hype. More and more people are taking turmeric supplements and being drawn to supplements with turmeric in them. While turmeric might have started out as a simple trend it's not going anywhere anytime soon.
At Quality Supplement Manufacturing we can help you make your very own turmeric supplement! We specialize in capsule and tablet supplements and can tackle any formula you throw at us.