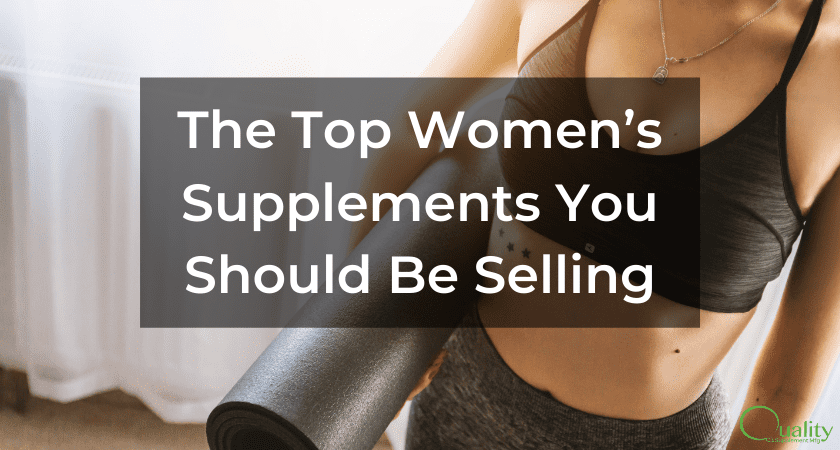 It probably won't surprise you to learn that more women take supplements than men overall. That's why women are definitely not a demographic to be ignored when it comes to which supplements you sell and how you market them.
Another interesting fact is that according to the 2015 CRN consumer survey on dietary supplements 66% of supplement users between the ages of 18-34 anticipate their supplement use will increase over the next five years.
If you aren't already selling these top women's supplements, you should be.
Women's Multivitamin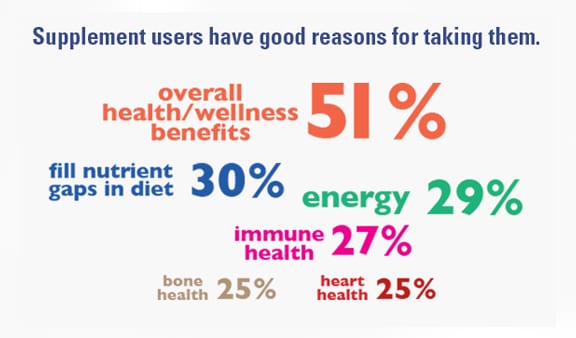 Daily multivitamins are the number one type of vitamin and mineral supplement on the market today. A staggering 77% of female supplement users take a daily multivitamin. These vitamin and mineral supplements play a critical role in the lives of many women helping them to achieve complete nutrition.
With busy lives and poor diets many women don't get the nutrition they need through the foods they eat. In addition, due to mineral depletion in soil even whole foods aren't as nutritious as they once were making a multivitamin a welcome addition to help bridge the nutrition gap.
The health and nutrition needs of men and women are different which means that it's important to provide your female customers with a supplement that can cater to their health needs. Some formulas include proprietary blends for energy, immunity or other health concerns; These are a great way to set your supplement apart from others already on the market.
Beauty Supplements
Beauty supplements are another popular vitamin and mineral supplement among women. With many women striving to look Instagram ready at all times supporting healthy hair, skin and nails is a must. Plus, beauty influencers have helped promote the popularity of beauty supplements making them a must have for many women.
The most common beauty supplements are hair, skin and nails vitamins with a blend of vitamins and minerals with a focus on certain vitamins and minerals that are beneficial for hair, skin and nails specifically like biotin, collagen and vitamin C.
One of the keys to success when it comes to selling beauty supplements is the testimonials from women that have tried it and loved it. Unlike taking a daily multivitamin for general health, a beauty supplement has a clear purpose so when marketing your supplement make sure to have many examples of before and afters for successful marketing.
Protein Supplement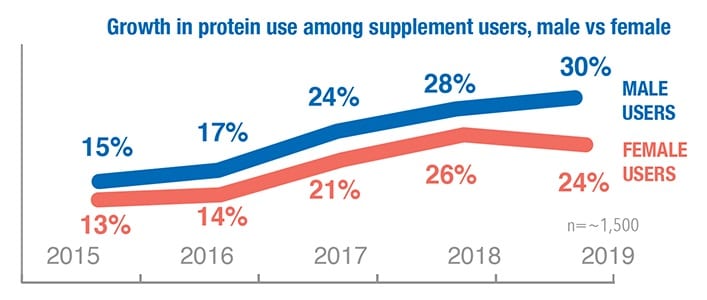 Protein hasn't always been on the top of the list when it comes to popular supplements for women. In fact, many women used to shy away from protein supplements because they thought: 
Only men take protein.
It will make me look bulky.
I don't need that much protein.
There are too many calories.
It will make me fat.
Now and days though more and more women are drawn towards protein because of the many health benefits. According to the 2019 CRN consumer survey, in 2013 only 13% of female supplement users took protein compared to 2019 when 24% of female supplement users take a protein supplement. 
There is still a lot of room to stand out in today's market. Women are looking for a wide variety of options when it comes to their protein and not everyone wants the same thing. 
Organic
Vegan
Low-carb
No-carb
Keto
Naturally sweetened
Grass-fed
Meal replacement
This leaves a lot of room for you to customize your protein supplement to stand out from the crowd and appeal to certain niches. Not to mention the fact that many supplement brands still market their proteins towards men. 
The Takeaway
Millions of women take supplements everyday to support their health and make up for gaps in their nutrition. Women's multivitamins, beauty supplements and probiotics are just a few of the most popular supplements on the market.
These supplements offer a unique option to customize them in order to make them stand out on the market. Unlike simple letter vitamins that are difficult to sell in a unique way, these three supplements offer the opportunity to be different and address women's health concerns directly.
To learn more about creating your own custom supplement click here to check out our blog.