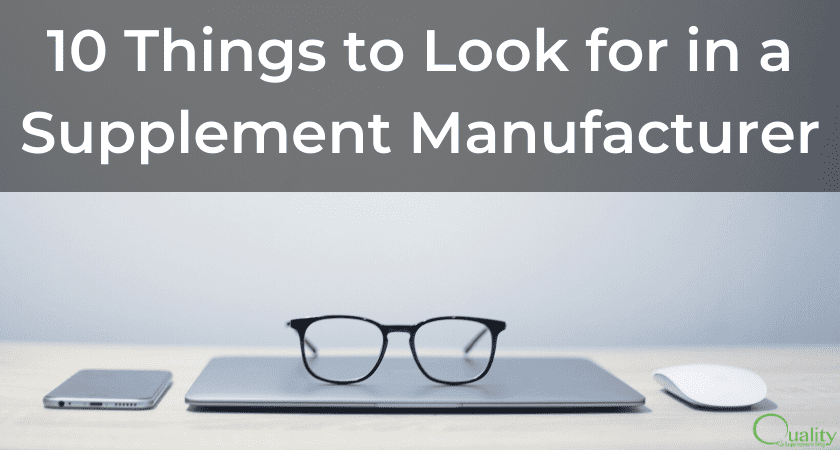 With the supplement industry booming there's no shortage of manufacturers that want your business. But not all manufacturers are created equal and if you pick the wrong one it could mean curtains for your business.
That's why it's so important to do your homework on a manufacturer before you start working with them. If you're new to the industry (or maybe you're lucky and haven't learned these lessons the hard way) sometimes you just don't know what you don't know.
So here are 10 things to look for in a supplement manufacturer…
1. Are they CGMP certified?
So what is CGMP? Well, let's let the FDA answer that, "CGMP refers to the Current Good Manufacturing Practice regulations enforced by the US Food and Drug Administration (FDA). CGMPs provide for systems that assure proper design, monitoring, and control of manufacturing processes and facilities."
CGMP, sometimes just referred to as GMP, are essentially the rules that manufacturers need to follow in order to produce high quality products that are safe for consumers to use. So make sure you find a supplement manufacturer who's CGMP certified so that they're following those rules strictly.
2. Are they FDA registered?
Many people confuse being CGMP certified with being FDA certified. The truth is the FDA doesn't certify manufacturing facilities. That's what the CGMP certification is for, to say you're up to date on all your manufacturing processes.
You can be a FDA registered facility though and you should definitely ask because it's a pretty basic qualification that the FDA requires.

3. Do they do quality assurance and testing?
When you're using a third-party supplement manufacturer you want to be 100% sure that you're getting (and selling) a product that is not only safe but is what it says it is. Selling poor quality product to your customers can sink you faster than the titanic.
You'll want to ask what that process is and how you can get a certificate of analysis for each batch they run for you. If your supplement manufacturer isn't testing the product or doing quality assurance and can't provide you a certificate of analysis, it's probably best that you find another manufacturer.
4. Do they help keep you up to date on FDA labeling requirements?
Making sure that your labels are accurate and up to date according to FDA and FTC regulations is ultimately your responsibility but a good manufacturer will help you stay current of any changes.
Keeping your labels up to date is a huge deal so having a manufacturer who monitors the regulations and also adjusts formulas to stay compliant is a really big deal. It takes a lot of the stress off of your shoulders knowing you have support.
5. Do they keep product stocked in house?
Having a manufacturer with a wide variety of supplements and ingredients that they keep in stock is important whether you're going to private label or create a custom formulation. Having inventory in-house can mean that you're getting a better deal on products because they're not having to special order certain ingredients every time.
It also means that they're less likely to run out of product which means you won't run out of product to fulfill your customers orders. If you have certain ingredients that you're interested in, ask if they keep them in stock.
6. How fast is their turnaround time?
Another aspect that keeping inventory in house affects is how long or short their turnaround time is. The shorter the turnaround time the better. You certainly don't want to tie up your businesses capital in inventory that you can't even sell.
Keep in mind that if you ever do stock out you'll want to restock as fast as possible. The faster your manufacturer can get product out to you the better.
7. Do they do custom formulas and private labeling?
At the moment you might be looking for a custom Supplement formulation or maybe you're looking for a private label supplement, either way you might want to switch down the line. If you're just starting out private labeling can be a great place to start but maybe in the future you want to create a custom formula.
On the other hand, maybe you're looking to do a custom formula but down the line you might want to quickly expand your product offering with a hot trendy product, private labeling is a great option for that.
Choosing a supplement manufacturer that does both allows you to be flexible in the future.
8. Are they a one-stop-shop (design, labeling, bottling, etc.)?
If you're looking for ways to make your life easier and keep costs low, find a supplement manufacturer that's a one-stop-shop. This way you don't have to hire employees to design your label or bottle your supplements.
Plus, a one-stop-shop manufacturer will be able to guide you through any processes that you're unfamiliar with.
9. Minimums and Pricing
One of the biggest questions that people have when looking for a manufacturer is usually minimums and pricing. Make sure to find out exactly what their requirements are at the beginning.
Just remember though that price shouldn't necessarily be the biggest deciding factor. In the end you get what you pay for. Choosing the cheapest option can wind up being a bad decision because of poor quality, slow turnaround time, etc.
10. Are they experienced?
Ideally you'll want to look for a supplement manufacturer that has all these requirements plus many years of experience. You want a company that has been around and knows a thing or two about the industry. You want someone who has experience helping others build and grow their businesses.
Why Choose Quality Supplement Manufacturing
At Quality Supplement Manufacturing we have a combined 45+ years of experience manufacturing supplements. You could say it's a family tradition and a family business! We specialize in manufacturing capsules and tablets and we're dang good at it. We have the ability to manufacture 2 million capsules and 600 thousand tablets each day and there's no formula that we can't tackle.
Our saying at QSM is If you work hard, do the right thing, good things will happen. We've experienced this ourselves, it's how we live our lives and run our business.
One thing we really focus on is sticking to our promised timeline and being completely transparent. We don't say yes we can do it in this time frame but actually lie about it. We do it exactly how you ask us to do it, we don't cut corners.
At QSM we are as transparent as we can be. We're a cGMP certified facility and we're proud to say we passed our inspections with flying colors. We welcome anybody to come in and inspect our facility.
In addition we make sure that you know your supplements were made correctly. We have any document that is requested for, from testing to in-process paperwork.
The bottom line is, we say what we do and do what we say.
The Takeaway
It's important that you ask a lot of questions and get a lot of answers in the research phase of finding a supplement manufacturer. At Quality Supplement Mfg we fulfill all these requirements and more.
We've helped countless businesses develop by providing them with quality products that their customers love. We have over 1,000 ingredients of products in stock and we would love to help you build your business too!
Contact Us Today to Get Started!